Chuck Norris, CAIR Flight Volunteer Pilot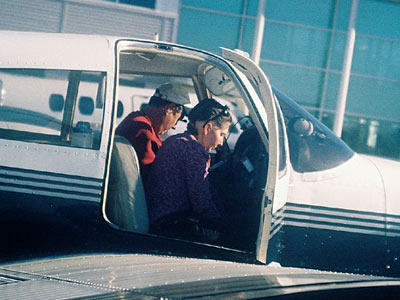 As a volunteer pilot for CAIR Flight, I'm always looking for opportunities to fly a mission. I'm a father of two and a full time sales representative in the medical industry, so finding a mission that fits within my limited free time can be challenging to say the least.
I also tend to shy away from flights covering too great a distance due to my airplane's speed limitations. Due to these factors, I had yet to fly a CAIR Flight mission. That is until I learned about Trudy.
I was preparing for a flight from Tampa, where I live, to the panhandle of Florida when I received an email from CAIR Flight regarding a mission. A patient was in need of transportation from Pensacola to Tampa on a Saturday. It was a perfect fit, as I would be up there visiting my brother (that I hadn't seen in five years) and my parents. I felt that this one was a sign from God, so I had to do it.
The morning pick up was beautiful and clear. This was a pleasant change from the day before in which I had spent much of my flight getting up to the panhandle in cold, wet clouds. However, the visibility must have 100 miles and not a cloud in sight! I can only recall about three days, over the last four years of flying that were as clear as this one. This would prove to be only a taste of things to come.
Not wanting to be late for my first mission, I arrived about an hour early to Pensacola Regional Airport. Arriving early would give me time to put together my flight plan back to Tampa and relax a little. Weather was to remain clear the entire day, so I filed the most efficient course possible. Our flight would take us over what the locals call the "Worlds Most Beautiful Beaches." I had never flown over them and was excited about the prospect. With my flight plan filed and a preflight inspection performed, I was ready to sit back relax and wait for Trudy's arrival.
Right on time, a couple came in the front door of the terminal where I was waiting. I knew it was Trudy. She looked weak, walked with a cane and was accompanied by her husband. I could tell he cared very much for Trudy. He was very careful and deliberate in assuring that she was well cared for. After a short introduction it was time to go out to the plane.
We helped Trudy up and into the plane. I gave her husband some information that would allow him to track our flight on the internet. He seemed to appreciate the ability to follow our progress to Tampa. He was very protective and wanted to make sure that Trudy was comfortable. She told me later in our flight that he didn't really like small planes, which explained his concern. Trudy, on the other hand, didn't seem to have any problem with flying whatsoever. It was now time to go.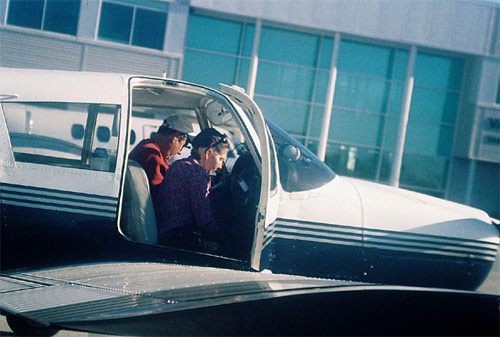 Taking off, I tried to warn Trudy that it was probably going to be bumpy during the climb, but would improve as we got higher. She told me that it was no problem and not to worry. We were cleared to 5,000 feet where the air proved to be glassy smooth and crystal clear. Trudy and I both marveled at the scenery, with both of us constantly point out things of interest. It was truly as beautiful a day as I've seen as a pilot. The aqua blue water and the sugar white beaches gave each of us reason to be grateful. We were both enjoying this unusually perfect day.
As we flew past Panama City and over the Apalachicola National Forest, we continued to talk about ourselves, and our families. I understand how Trudy became such a fighter as she spoke in some depth about her remarkable family. She told me about her father, brother, and her kids. We laughed about how badly the paper mills in North Florida smell. I got the feeling that Trudy was always a direct, strong, and independent individual. At least those qualities seemed to bubble up during our trip. She took a small nap over the Northeast corner of the gulf. When she woke up, she had a granola snack and some water. She was very alert and talked and asked questions. She followed our path on the map that she held in her lap. She even looked at the altitude indicator, and on her own, noticed that we had not even changed altitude during our flight. Now this may not seem like much, but I've flown many, many hours with my wife and I don't think that she could tell you where the altitude indicator is on the panel.
As I look back over our little trip together, it becomes apparent to me that this wasn't just a routine medical airlift cross country with pilot and patient. It was me and Trudy, just a pilot and passenger, both enjoying the day together. As I recall looking over at Trudy, I don't remember seeing a sick patient in the fight of her life. I remember seeing Trudy, just Trudy. She didn't look sick and didn't act it either. I remember promising her that while we hadn't experienced any bumpy air yet, we were sure to have some on our decent into Tampa. She told me to not worry, and that she was fine. During our long decent, she asked me if there was anything interesting to do in Tampa. Not being the imaginative type, I told her that she was already doing the greatest thing possible. She seemed to understand. Oh yes, my concern over the expected bumpy air was unjustified as it would remain smooth all the way to a rare but perfect touchdown. This was after all, a flight planned by God.
That lone CAIR Flight mission with Trudy has, to date, remained my one and only. I will always remember it fondly. It was the perfect flight. Trudy was the perfect passenger to share it with. It was my honor to be with her on this trip. I learned so much from her during our few hours together. For anyone that denies God's plan, I wish you could have been with us.
I hope to fly many more missions for CAIR Flight, but my first with Trudy will always be the most special to me. I signed up with CAIR Flight to give something back. I never expected to be the beneficiary. My most sincere best wishes and prayers go out to her family and friends.