By M. Wilson
Frantic calls started coming in on a Saturday afternoon.
A 3-year old girl with Rett's Syndrome was deteriorating in health and needed to see the renowned specialist in Birmingham, Alabama. The doctor had an opening to see the child on Wednesday morning. Ronald MacDonald House had arranged accommodations for the family. The missing link was transportation for a child that could not endure a nine hour trek by automobile.
CAIR Flight's challenge was to find a pilot quickly for a Tuesday flight and one with a larger plane that could transport the parents and two small children. It was a bevy of phone calls between CAIR Flight and Angel Flight of Georgia who were working together to assist these desperate parents. On Monday morning CAIR Flight reached out to pilot Elliott Ross, who flies out of the St. Petersburg/Clearwater Airport. He was able to juggle his schedule to fly the family from Ormond Beach to Birmingham on Tuesday afternoon. Now the dilemma was how to get the family home on Friday morning.
The purple line shows the distance that Elliott flew that afternoon to assist this child and family.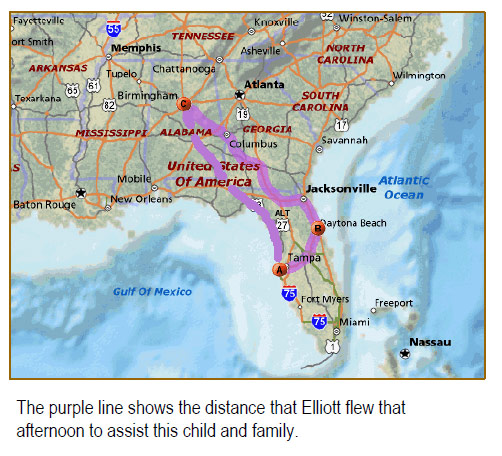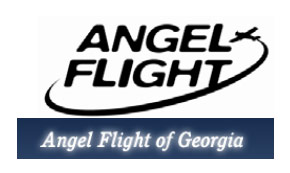 More outbound and inbound calls continued for the next three hours. Alas, Angel Flight of Georgia received a response from one of their pilots who had just purchased a larger plane and committed to the return mission! At 4:30 on Monday afternoon, CAIR Flight was able to call the father and tell him that both legs of the mission were covered and to have his family arrive at the Ormond Beach airport at 3:30 Tuesday afternoon. He expressed enormous relief and appreciation to both organizations and their pilots for pulling this together for them and giving their child a chance to live a better quality of life.
We thank both pilots for their willingness to juggle schedules and to go the distance to help this child in crisis. The donations of time, aircraft, and expenses are most appreciated.